03-06 July 2018
Asian Ministerial Conference on Disaster Risk Reduction (AMCDRR), with joint presentations of the GFMC, the Regional Fire Management Resource Center – Central Asia Region (RFMRC-CAR) and the Regional Fire Management Resource Center – South East Central Asia (RFMRC-SEA) (JG. Goldammer, O. Byambasuren, Bambang Hero), with contribution in the Side Event on Forest Fire-Related Risks on Challenges and Progress made in National Capacity Building in Landscape Fire Management in the Asian Region and at Global Level: Towards the Implementation of Target E of the Sendai Framework and presentation of the joint statement Current and Future Consequences of Fires Affecting the Landscapes of Asia: Call for Regional and Global Action to Reduce the Adverse Impacts of Fire on the Environment and Society; Ulaanbaatar, Mongolia.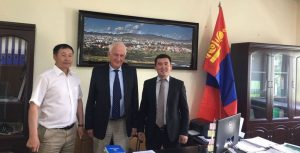 Pre-conference meeting with the Ministry for Environment and Tourism (MET) with Oyunsanaa Byambasuren, Director General of the Department of Forest Policy and Coordination and head of the Fire Management Resource Center Central Asia Region (FMRC-CAR) (right), and Senior Officer Tsevee-Oiroy Chuluunbaatar (left). Photo: MET.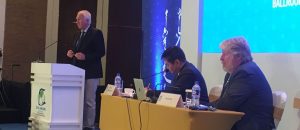 Reading of the official Joint Statement of GFMC and the Regional Central Asia and SE Asia Fire Management Resource Centers by GFMC. Photos: MET.